I purchased an ad on Biblical womanhood.com for three months. I am not sure if it will help spread the word or not, but it does look really cute amongst all the other ads on her side bar. ;-)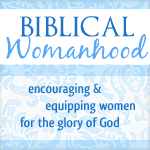 Go take a look! And if you didn't know about biblical womanhood, she is a mom around my age expecting her third little one.
She is an expert on bargain shopping and has two other blogs. One is to help people learn how to save money when grocery shopping and other areas in the fi⋅nance department. The other is to help encourage mom's with little ones as these times when they are little can be a bit tough when one is sleep deprived,
LOL
!
Here are links to her other blogs: